Commercial Cleaning
For more than five years, the team at Queen Clean has been beautifying businesses and other commercial properties throughout Bozeman, MT, and the surrounding areas. We understand how important a first impression can be, so we do our best to ensure your customers, guests, or patrons are immediately amazed by the brightness and cleanliness of your property. Our highly experienced commercial cleaners use the latest equipment and techniques to ensure your facility is clean and safe from harmful contaminants.
Book Now
Customized Commercial Cleaning Plans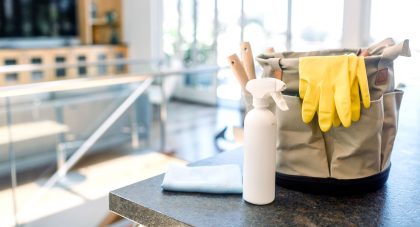 We understand that no two businesses are the same, so we create customized commercial cleaning plans. This allows our commercial cleaners to understand your schedule, needs, and budget to create a plan that works for you and your staff.
Let Queen Clean Handle Your Commercial Cleaning
If you're relying on employees or have been doing the bulk of your commercial cleaning yourself, it's time to call in the experts. At Queen Clean, we can take this stressful task off your hands so that every day you walk into your office or facility, you can be proud of the professional image you're conveying to potential customers and employees, and other guests that enter your facility each day.
Advantages of Choosing Queen Clean for Your Commercial Cleaning Needs
Below are a few reasons why many Bozeman, Montana businesses choose Queen Clean's professional cleaners to handle all their commercial cleaning needs.
Cost Savings – By outsourcing your commercial cleaning, you can save money compared to bringing on an in-house team of cleaners. With an in-house team, you'll have to concern yourself with personnel issues and typically offer expensive benefits and other perks to keep your cleaning staff happy. With an outsourced cleaning team, you won't have to worry about any of these issues, which can reduce the time you're spending growing your business.
Healthy Environment – Our commercial cleaning staff prioritizes creating the most healthy and clean space possible at your place of business. This helps to minimize the spread of germs and in turn, create a healthier environment for you and your employees.
Customized Commercial Cleaning Plans – Every business may have a different budget for their commercial cleaning needs. This is why we offer customized plans that are catered to both your needs and your budget.
Licensed and Insured – At The Queen Clean, we're fully licensed and insured to give you peace of mind when our commercial cleaners are on site. We have decades of experience in the commercial cleaning industry and will always do our best to provide the highest level of service possible.
Bozeman Commercial Cleaning Services
At The Queen Clean, we provide commercial cleaning to a variety of businesses and organizations, including:
Retail Establishments
Medical Facilities
Auto Dealerships
Apartment Complexes
Places of Worship
Educational Facilities
Office Buildings
Hospitality Buildings
Much more!
Contact Us Today for a Commercial Cleaning Estimate
If you're interested in learning more about our commercial cleaning services or you're ready to obtain a free commercial cleaning quote, don't hesitate to contact us today by phone at (406) 219-7280.