Residential Cleaning
Hiring local cleaners to come into your home regularly is a big deal. Here at The Queen Clean, we do not take this responsibility lightly. Our residential cleaners take great pride in ensuring your home is clean and safe for you and your family. We utilize the latest industry-leading cleaning methods and environmentally friendly cleaning products to provide you with the highest level of service possible.
Book Now
Green Cleaning Products & Cleaning Methods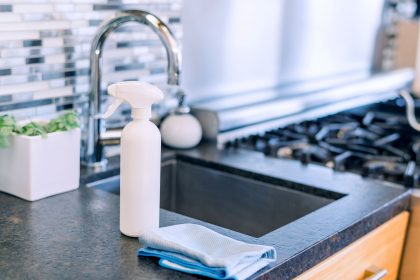 Your home is your haven and where your loved ones spend most of their time. Why, then do so many cleaning companies in Bozeman and the surrounding areas need to use the most abrasive chemicals possible? At The Queen Clean, we use environmentally friendly cleaning products whenever possible and only use harsher chemicals if the job requires it. This ensures you can enjoy a clean home free of harsh chemicals and smells that is safe for the entire family, including your beloved pets!
Take Back Your Time With Help From Our Residentials Cleaners
While having a clean house is an amazing feeling, hiring residential cleaners also helps you to take back your time. Cleaning your house can take hours from your busy schedule each week. When you hire our team of professional cleaners, you'll be able to reclaim a significant portion of your time to devote to other tasks, such as spending time with your loved ones, traveling, or even picking up a new hobby.
Local Cleaners That Want to Get to Know You
At The Queen Clean, we are a small family-owned company focused on providing the best possible service to you and your family members. We will send the same cleaners to your home for each visit so that you can develop a working relationship built on trust. Should you have any issues along the way, you'll always have access to our owner's cell phone number so you can instantly speak with someone fully invested in your 100% satisfaction.
General Cleaning or Deep Cleaning – We've Got You Covered!
If you need our deep cleaning services, have no fear! We understand that keeping your home clean with all the other tasks you have on your plate can be difficult. Because of this, we offer a residential deep cleaning service to get you back on track. Once we perform our deep cleaning services, we can move to a more manageable, more general cleaning for our team members. Feel free to reach out to our office to learn more about the differences between our different levels of residential cleaning services.
Experience a Cleaner and Healthier Home Today With The Queen Clean
Now's the time to take back your schedule and leave your home cleaning to the pros at The Queen Clean. We work with residential cleaning clients throughout Bozeman, Montana, and the surrounding areas. Call our team today at (406) 219-7280 to learn more.